WinWedge Standard Edition
The WinWedge Standard Edition is the perfect tool for interfacing simple devices such as balances, scales, bar code scanners, pH meters, measuring instruments, calipers, gauges, GPS receivers, etc. directly to other Windows programs running on the same workstation as WinWedge.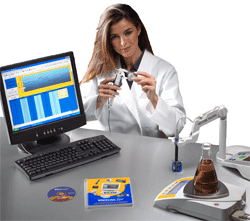 WinWedge Standard is designed as a simple program for interfacing most typical RS232 (serial) devices to a PC. It has two modes for passing incoming serial data directly to other programs: a "Keystroke Mode" where incoming data is passed to other programs as Keystrokes, and a "DDE Server Mode" that passes data to other programs using Dynamic Data Exchange. The Standard Edition has basic parsing and filtering capabilities for dealing with either fixed length or delimited data records. It also has Hot Keys that you can define for sending prompts or commands out a serial port to a device simply by pressing a hot key on your keyboard as well as a full character translation table for translating individual characters to either specific keystrokes or to other characters. WinWedge Standard can also be controlled using Dynamic Data Exchange. The DDE capabilities allow you to do things like use simple macros in Excel to perform fully bi-directional serial I/O functions.
Features
Supports all COM ports. Install on up to 32 serial ports on a PC for data collection from many devices simultaneously.
Data Transfer as Keystrokes directly into any other application program.
Data Transfer by DDE to any Windows application. Includes an advanced set of DDE commands that allow other Windows applications to take complete control of all Wedge functions, including serial output functions. The DDE command set allows you to create extremely powerful device control interfaces from within any other program that supports DDE, e.g. Excel, Access, etc.
Basic Data Parsing Capabilities allow you to split incoming data into fields. Input only data you need and ignore the rest.
A Powerful Serial Data Analyzer feature allows you to preview serial data and debug all serial communications problems.
Data Filtering Capabilities let you selectively filter out non-numeric characters from any field in your input data or ignore specific fields altogether. The Professional versions have additional advanced filtering options.
Pre-Transfer Translation Tables. Translate incoming ASCII characters to other characters or to specific PC keystrokes.
Keystroke Macro Insertion. Add additional keystrokes or keystroke macros before, after, or within your serial input data. Keystroke macros allow you to control where and how serial data appears in the target application program in Keystroke Mode.
Automatic Date and Time Stamping. Place date and time stamps directly in your serial input data.
Up To 20 Button Controlled Output Strings. Program buttons to either send data strings out the serial port or lower the PC's DTR line whenever the button is clicked. Use the Output Buttons to send prompt strings, or other control data, to your serial devices.
Automatic Data Acknowledgment feature sends a string back to the serial device after each data record has been received.
Timed Automatic Prompting. Have the Wedge automatically transmit prompt strings or commands at regular timed intervals.
Fully Selectable Communications Parameters. 110-115,200 baud; 5,6,7 or 8 data bits; 1 or 2 stop bits; EVEN, ODD, MARK, SPACE or NO parity.
Hardware and Software Flow Control. Selectable input and output buffer sizes from 128 bytes to 32K. Support for new high speed 16550 UARTs.
The Next Steps
We are currently unable to offer this product for sale. Please contact us for more information.
We can, however, provide you with all of the software support and advice you need to choose the right product so please call your local office for advice or a quote.
What do our Customers say about us?
I have now followed your (very clear!) instructions and am happy to report that my problem is solved. Magic! You have made me a much, much happier person!
CS, Reading, UK
When working with many data points, graphing is often the quickest way to qualify data and identify trends. With the Origin statistics gadget, it's also easy to pull quantitative information, such as mean and standard deviation, straight from a data plot. This lets me make better decisions about which data to select for more detailed analysis.
Boaz Vilozny - Postdoctoral Researcher, University of California at Santa Cruz
Excellent, very approachable and with wide knowledge of the software
Both days were time and money well spent
PA, Glenrothes, UK
Alfasoft Products
For the time being we are unable to offer the following product ranges although we are currently working hard to increase the number of products we can offer in the future. Please contact us to talk about alternative products that we may be able to offer you.