WinWedge
WinWedge easily collects data from balances, gages, meters, sensors, micrometers, barcode scanners, GPS, PLCs, analyzers and other measuring devices and laboratory instruments. It inputs the device data directly into Excel, Access, LIMS, MMIs, Medical Systems or any Windows application or web page.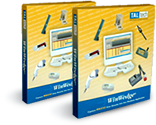 WinWedge can easily parse, filter and format your device data to your needs. The data is automatically input into your Windows applications (i.e. Excel).
WinWedge can also transmit prompts or commands out the serial port to control your instruments. Think of WinWedge as an easily customizable serial I/O device driver.
Winwedge comes in both Professional and Standard versions. Visit our feature comparison page for details or call us to ask which version will work best for your needs.
Input serial data from any device, even many devices, directly into any Windows application (i.e. Excel).
Easily eliminate manual data entry for any instrument you can connect to your PC (RS232, TCP/IP, USB).
Create graphs in your application that automatically update with real-time device data.
Perform real-time analysis of your device data in any application.
Create buttons or "Hot Keys" that control WinWedge and/or your device.
Setup is as Easy as 1-2-3
1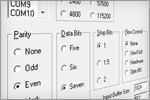 Connect your device to the COM port on your PC and select the communications parameters (i.e. baud rate) in WinWedge.
2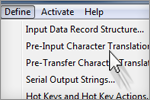 Easy, walk-through menus allow you to tailor the data to your needs by splitting the data into fields, filtering the data and formatting. Setup output strings to send to your device if needed.
3
Activate WinWedge and watch the data from your serial devices "pop" into the Windows application you select, such as Excel (shown here). You can even input the device data directly to graphs or do real-time analysis on it.

Compatible Devices
WinWedge is compatible with a wide range of devices, including… (view all)
Balances
Gauges
Meters
Micrometers
Scales
Barcode Scanners
Temperature Sensors
GPS Receivers
Calipers
The Next Steps
We are currently unable to offer this product for sale. Please contact us for more information.
We can, however, provide you with all of the software support and advice you need to choose the right product so please call your local office for advice or a quote.
Alfasoft Products
For the time being we are unable to offer the following product ranges although we are currently working hard to increase the number of products we can offer in the future. Please contact us to talk about alternative products that we may be able to offer you.