TCP-Com
TCP-Com is RS232 Serial to TCP/IP converter software (i.e., a Serial Server). You can easily interface serial ports directly to TCP/IP or UDP networks. TCP-Com can ALSO redirect Ethernet/IP data to real or "Virtual" RS232 serial ports. This allows you to use existing Windows-based serial RS232 communications software to send and receive data across any TCP/IP network.

TCP-Com software is extremely simple but powerful. It can be used to solve a wide variety of device interfacing and RS232 or TCP/IP conversion problems, such as the following:
Turn a PC into a Serial Device Server (Terminal Server).
Send or receive data over a TCP/IP port with any serial communications program.
Open COM ports located on another computer in your network as if they were local.
Use Ethernet network (or the Internet) as a giant serial RS232 cable (Serial Tunneling).
Use TCP-Com to feed data from one physical RS232 port to multiple RS232 serial communications applications.
Use TCP-Com to map a TCP/IP port to a different TCP/IP port.
A Serial Device Server (Terminal Server) is a hardware device that connects a serial instrument (balance, meter, barcode scanner, PLC, etc.) to Ethernet and provides an I/O path to the device through an IP port. TCP-Com performs the same function as Serial Device Server except it is a software program that runs on any Windows PC and uses the serial ports installed in that PC (up to 256) and the PC's exiting TCP/IP network connection.
If you have an RS232 device connected to a com port on your Windows PC you can only connect to that com port with one software application. If you need to communicate with that device (com port) from 2 Windows applications you would have to use a "splitter cable" to make the RS232 data come in on 2 separate com ports. This would also require you to purchase another com port.
Interestingly you can actually use TCP-Com to make the RS232 device data on the one com port apprear on as many virtual com ports as you need. In this way TCP-Com acts as Virtual Serial Splitter, or "Y", Cable and allows all your Windows serial communications applications to access a device on just one com port! See diagram, above, for how it works.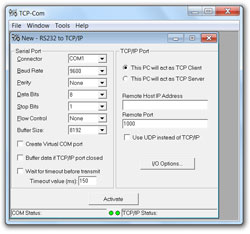 Intuitive Interface
In the TCP-Com window just select the com port number and the serial communications parameters for your serial device and enter an IP address and a socket number. Then activate! It's that easy! Com port data will appear at the IP address and data from an IP port will appear at a real or virtual com port.
The Next Steps
We are currently unable to offer this product for sale. Please contact us for more information.
We can, however, provide you with all of the software support and advice you need to choose the right product so please call your local office for advice or a quote.
What do our Customers say about us?
Your website is hugely informative and a pleasure to visit. Frankly I wouldn't dream of buying technical software from anyone else.
NR, Inverness, UK
Origin lets you zoom in on an an area of the plot easily without having to rescale manually. I also love the data reader feature where you can follow a line or curve and view the exact coordinate values. Thanks for an awesome product!
Rebecca, R&D Chemist 3, Champion Technologies
Yet again Origin and OriginPro upholds its foremost status as the best purposeful and all-embracing data analysis and graphing software on the market. Although other software packages exist, few are as straightforward to use, flexible, and high-quality when it comes to performing challenging data analysis or creating publication superior graphs.
Keith J. Stevenson, Professor of Chemistry, The University of Texas at Austin
Tutor was very knowledgeable and taught in a way that was easy to follow
KH, Uxbridge, UK
Alfasoft Products
For the time being we are unable to offer the following product ranges although we are currently working hard to increase the number of products we can offer in the future. Please contact us to talk about alternative products that we may be able to offer you.